chaserbrand.com
I love graphic tees, which is a good thing considering I have three sons. Graphic tees are the love language of school-aged boys. But I just can't look at one more t-shirt with a baby Spider-man or whatever cartoon character Levon is obsessed with this week printed on the front. It's not that I hate cartoons, it's that I hate ugly things. And bright colors. Why are little boys' t-shirts so ugly and BRIGHT? I prefer to dress Levon in inexpensive, solid basics that I can throw away when they become so stained that they're no longer appropriate to wear in public. His wardrobe color palate is the same as mine – black, gray, green. Sometimes I get crazy and throw in some dark blue.
Best Clothing Brands for Boys
When it comes to clothes, boys have so few options compared to girls. All of Levon's clothes tend to look the same, so I'm determined to incorporate patterns and colors into his back-to-school wardrobe, even though it's a challenge for my eyeballs. I've rounded up my favorite brands for boys for those of you who, like me, aspire to dress your child like mini versions of yourselves. After all, isn't that why we had kids?
What are your favorite brands for boys? Share in the comments!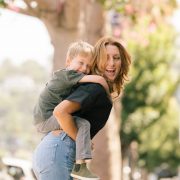 Jessica Butler
Jessica Butler is the co-founder of Raise, stepmother of two, and adoptive mother of one. Prior to Raise, she was a writer on USA's "In Plain Sight" and TNT's "The Last Ship." She and her husband, writer/producer Warren Bell, co-created the Nick at Nite series "Instant Mom," based on her life as a stepmother. She lives in Los Angeles with her husband and six-year-old son, Levon.