Thirteen options for design-loving parents.
I've never understood the urge to make children's furniture colorful and…ugly.  My kid doesn't care what his chair looks like, but I do. I very much do. There's no reason that your baby's furniture shouldn't blend seamlessly with the rest of your home's décor. We've rounded up our favorite white high chairs — at all price points – to share with fellow design-loving parents.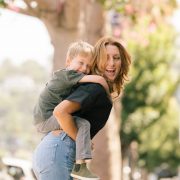 Jessica Butler
Jessica Butler is the co-founder of Raise, stepmother of two, and adoptive mother of one. Prior to Raise, she was a writer on USA's "In Plain Sight" and TNT's "The Last Ship." She and her husband, writer/producer Warren Bell, co-created the Nick at Nite series "Instant Mom," based on her life as a stepmother. She lives in Los Angeles with her husband and six-year-old son, Levon.