17 pieces for your nursery and play space.
I grew up in a wicker wonderland. A bedroom furnished with Pier1's finest. When Grandmillenial style reintroduced the world to rattan, I swore I would never let it inside my home. Seagrass storage baskets, sure. An uncomfortable chair frame made out of sticks, why?
I'm still a bit nauseated by large-scale rattan pieces, but I've come around to the more timeless accessories and décor. Below are my favorites for nurseries and play spaces. But mark my words, I will never accept bed skirts, no matter what the trendsetters say.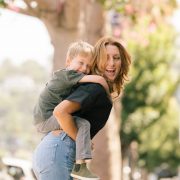 Jessica Butler
Jessica Butler is the co-founder of Raise, stepmother of two, and adoptive mother of one. Prior to Raise, she was a writer on USA's "In Plain Sight" and TNT's "The Last Ship." She and her husband, writer/producer Warren Bell, co-created the Nick at Nite series "Instant Mom," based on her life as a stepmother. She lives in Los Angeles with her husband and six-year-old son, Levon.