Shutterstock
The only thing harder than parenting is co-parenting.
Whether you're dealing with your own ex or your spouse's, it's likely that you're co-parent is, at times, a source of stress in your life. Under the best of circumstances, having to compromise on your children's schedules, activities, and education is difficult. After 14 years as a stepmom, these are the things I have learned that help me have a healthy relationship with my co-parent.
Treat Your Co-Parent Like A Business Partner
One of the very first books I read about divorce and stepparenting offered this advice: Don't think of your co-parent as an ex. Think of them as a business partner in the most important job you'll ever have — raising your children. It's a great reminder that you don't need to like or even agree with your ex in order to have a successful co-parenting relationship. Plenty of people hate their bosses, but they find a way to make the relationship work in order to keep their job and achieve overall success. Co-parenting partnerships should be approached the same way.
Framing my co-parent as a business partner is the best thing I've ever done for our relationship.
Don't Hold Your Co-Parent To An Unrealistic Standard
I've had several — shall we say —  monumental conflicts with my husband's ex. Over schedules, over money, over parenting styles and philosophical beliefs. But it's important to point out that I've had the same arguments, though probably more of them, with my husband. And mother. And sister.
We tend to forgive and forget these implosions when they occur in other relationships, yet hold our co-parents to a different standard — one big blow out and it's over.
Your co-parenting relationship is worth fighting for. It's essential to the long-term mental health of your children. Show your co-parent as much grace as you show everyone else in your life. They may not deserve it, but your children do.
Never Speak Negatively About Your Co-Parent To Your Children
Like it or not, your children's other parent is a part of them, and if you say that other parent is bad, it can make your children feel like they are bad. This amazing mom, who adopted five siblings from foster care, explains it best: "If you tell a child they came from a bad place or from bad people, it makes them feel like they are bad. I want [my children] to know and believe in their core that they are good. I make it a point to say, 'I love mommy K, and I'm so proud of her. She's doing well and you should be proud of her too.' Every single time I say that to them, they get big smiles on their faces. I know deep, deep inside that that's part of their self-confidence — that the person they came from is doing great in life. It's huge."
The same wisdom applies to children in blended families. Loving them means respecting their other parent.
 Avoid Battles Over Your Children's Clothing
The back and forth between homes is enough to break even the most organized parents. The number of times I had to make special arrangements to pick up whatever item of clothing or homework assignment the boys had forgotten at their mom's house is too numerous to count. But over the years, I learned a few tricks to help the make the transition less stressful. Buying a second set of basics was a game changer, but the biggest help of all was adjusting my expectations.
Be Flexible With Holiday Celebrations
I always encourage blended families to ignore the calendar when it comes to holidays. Dinner together on December 25th is no more significant than dinner together on a random Tuesday unless you decide that it is. As a stepmom, I built family traditions by elevating over-looked holidays and even creating a secular Easter celebration for my Jewish stepsons that has become a neighborhood tradition. Mom of three, Halley Dean, who co-parents with her ex-husband's ex-wife offers this great reminder: Your ex-spouse might not make things easy, but that doesn't mean you have to act the same. Remember — if they are the rock, don't be the hard place.
Blending families is an opportunity to create new bonds and celebrate new traditions. Sometimes that means Easter and the 4th of July get celebrated together in late May, but honestly, who doesn't love chocolate and fireworks any time of year?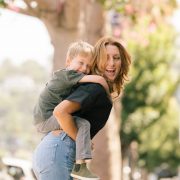 Jessica Butler
Jessica Butler is the co-founder of Raise, stepmother of two, and adoptive mother of one. Prior to Raise, she was a writer on USA's "In Plain Sight" and TNT's "The Last Ship." She and her husband, writer/producer Warren Bell, co-created the Nick at Nite series "Instant Mom," based on her life as a stepmother. She lives in Los Angeles with her husband and six-year-old son, Levon.