Urban Outfitters
P.S. Easter is Sunday. You're welcome.
Last week I threw away several gallon-sized Ziploc bags full of Halloween candy, so the Easter Bunny has been instructed to find non-edible items to fill Levon's basket. My Easter gifting rules are the same as my Christmas ones — don't give my kid a gift that results in work for me. Give him a toy he can play with silently and give me the gift of five minutes of peace. Below are my favorite calorie free, last minute gifts for kids. Because we all know who ends up eating that Easter candy.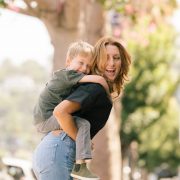 Jessica Butler
Jessica Butler is the co-founder of Raise, stepmother of two, and adoptive mother of one. Prior to Raise, she was a writer on USA's "In Plain Sight" and TNT's "The Last Ship." She and her husband, writer/producer Warren Bell, co-created the Nick at Nite series "Instant Mom," based on her life as a stepmother. She lives in Los Angeles with her husband and six-year-old son, Levon.