Glam up your homeschool corner with these acrylic chandeliers.
We love highlighting mama-owned businesses, and one our favorites is HeyGirl Décor. You may recognize HeyGirl's founder, Nicole Ketchum, from our insta feed, where she shares stories of her adoption journey and her relationship with her daughter's birth parents. Jump over to HeyGirl's website to shop their acrylic, light weight chandeliers and instantly glam up your babe's bedroom, play space, or homeschool corner.
And HeyGirl's décor isn't just for kids. Their chandeliers make adorable additions to patios, weddings, and party décor.
Nicole created HeyGirl when she was looking for a chandelier for her apartment that didn't require a light and was easy to put together. Nothing like that existed on the market, so she created it herself! The chandeliers have since been featured in hotels and department stores, celebrity kid's rooms, People magazine, and the powerhouse blog OhJoy.com.
Visit heygirldecor.com for more design inspo and to shop!
Do you have a brand, blog, or business we should feature? Email us!
Community is everything in times like these, and there's no better way for us to support ours than by sharing the businesses that literally support you — the mamas in our tribe. That's why we're creating a space to highlight brands owned by stepmoms, adoptive and foster moms, adoptees and former foster youth, birth moms, single moms, LGBTQ parents, BIPOC, and mamas of mixed race families. If you have a brand, blog, or business you'd like us to feature on our site (and in our feed), please email us! We're so excited to hear from you and help you grow your community!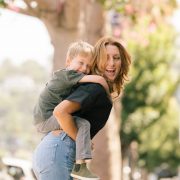 Jessica Butler
Jessica Butler is the co-founder of Raise, stepmother of two, and adoptive mother of one. Prior to Raise, she was a writer on USA's "In Plain Sight" and TNT's "The Last Ship." She and her husband, writer/producer Warren Bell, co-created the Nick at Nite series "Instant Mom," based on her life as a stepmother. She lives in Los Angeles with her husband and six-year-old son, Levon.