The best traveling tip I've ever received.
When Levon was two, we purchased a second home in Arizona, which needed extensive renovations. The plan was for me to travel back and forth from L.A. with Levon in tow during construction. Knowing that I would be traveling often, I reached out to fellow jet-setting mamas for advice. My friend April shared the most genius hack: "Pack an extra shirt for yourself, along with a Ziplock bag. You always remember to pack a change of clothing for your kid, but you never think about yourself. It's you who's going to end up with poop, spit up, chocolate, or apple juice down the front of your shirt. Pack yourself a clean top and shove the dirty one inside the bag."
Levon is now seven and I still carry an extra shirt and Ziplock with me on every trip.
What advice do you have for parents traveling with kids?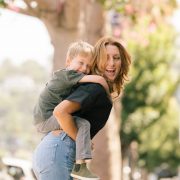 Jessica Butler
Jessica Butler is the co-founder of Raise, stepmother of two, and adoptive mother of one. Prior to Raise, she was a writer on USA's "In Plain Sight" and TNT's "The Last Ship." She and her husband, writer/producer Warren Bell, co-created the Nick at Nite series "Instant Mom," based on her life as a stepmother. She lives in Los Angeles with her husband and six-year-old son, Levon.