cledepeaubeaute.com
Because none of us are getting that nap we asked for on Mother's Day.
My face is aging well, if I do say so myself. I attribute my still youthful looks to genetics (thanks, Mom), sunscreen, and just the right amount of Botox and Juvéderm. But there's one thing even going under the knife can't fix – dark under eye circles. I've suffered from bruised-looking circles and puffy eyes since I was a child, due almost entirely to allergies. Prior to my THIRD sinus surgery, I asked my ENT, who is also a plastic surgeon, if he could do anything to fix my eyes. He said there were a few options that could reduce the puffiness, but nothing that could correct the dark circles except "good makeup." Per usual, I called my friend Sarah Uslan, a celebrity makeup artist, for advice. "Cle De Peau Concealer! It has the best coverage and texture. I love it. And now it includes sunscreen!" You may be exhausted as a Mother… but you don't have to look like it.
On days when my circles are a normal level of dark, I layer Bobbi Brown Corrector under Laura Mercier Secret Concealer and it works like a charm.
Do you have a favorite concealer that works like magic? Share with us below!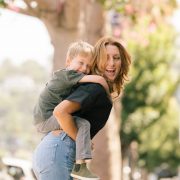 Jessica Butler
Jessica Butler is the co-founder of Raise, stepmother of two, and adoptive mother of one. Prior to Raise, she was a writer on USA's "In Plain Sight" and TNT's "The Last Ship." She and her husband, writer/producer Warren Bell, co-created the Nick at Nite series "Instant Mom," based on her life as a stepmother. She lives in Los Angeles with her husband and six-year-old son, Levon.