Sarah Uslan, whose clients include Beyoncé, Solange, Emma Roberts, Tori Kelly, and Olivia Colman, shares her go-to product for glowing skin.
Living in Hollywood has its perks, like when your son falls in love with a makeup artist's daughter and gives you access to her mother's expertise. Sarah Uslan — makeup artist to Beyonce and mommy to Levon's best friend Tallulah — graciously fields my late-night texts, including "My face is swollen from a sinus infection and I have a meeting tomorrow. HELPWHATDOIDO???" Along with, "So you know that shoot you did for Paper Magazine with the GORGEOUS model and the birds?Levon is obsessed and won't stop watching your 5 second instastory. Do you have any longer videos you can text me… of just the birds?"
I recently asked her for her favorite skin care product. "My secret weapon for making my skin look good is to use Radical Skincare Age-Defying Exfoliating Pads at night before moisturizer," she told me. "The AHA and BHA fruit extracts increase cellular turnover and rid my skin of the dull factor, leaving it looking bright and glowing."
I've been using them for over a month now and am absolutely obsessed. Not only does my skin look brighter, but I immediately noticed that my pores appear smaller.
Now if I can just find a product to erase the dark circles under my eyes.
What are you favorite skin care products? Tell us below!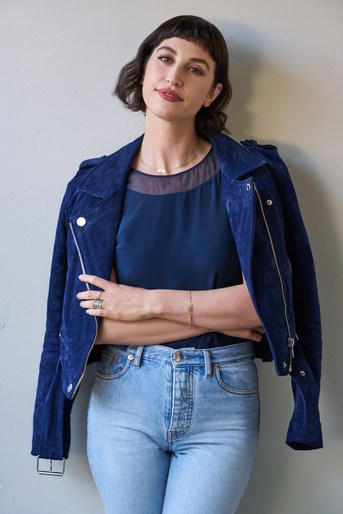 Sarah Uslan got her start assisting world renowned makeup artist, Bobbi Brown and traveled internationally as a featured artist for the brand. Sarah learned what takes to be a highly sought-after makeup artist and has now become one herself.
California inspired more of a focus on editorials, celebrities and advertising. She has been praised in articles and chosen by Allure magazine to be an Allure Insider. In addition to working with celebrities such as Beyoncé, Solange, Emma Roberts and Tori Kelly.
Sarah has also worked with legendary photographers like: Gilles Bensimon, Norman Jean Roy, Sante D'Orazio and Ryan Mcginley.  She works regularly with exceptional photographers such as Carlos Serreo, Pierre Toussaint and Sarah & Chris Rhoads.
Her editorial publications include; L'Officiel, Elle, Interview, GQ, InStyle, Marie Claire, RUSSH, Nylon and Allure.
Sarah has a vast array of advertising clients encompassing Burt's Bees, AG, Abercrombie & Fitch, Citizens of Humanity, Kenzo, FarFetch, UGG, Free People, Re/Done, Monique Lhuillier, Nike, Athleta, Reformation and Apple.
While now based in Los Angeles, Sarah divides her work schedule often between LA & NYC.