Levon turned FOUR last month and we celebrated with a Disneyland themed party!
At first, he requested a Haunted Mansion party. Levon loves Halloween and The Nightmare Before Christmas, and Haunted Mansion Holiday is his favorite Disneyland ride. I was thrilled. I could use the same decorations for his party and Halloween, which are mere days apart every year.
Then he dropped the bomb — "I also want a Indiana Jones party too and I want Spider-man to come."
For his 3rd birthday, Darth Vader and Luke Skywalker made an appearance, which apparently started a tradition of characters coming to celebrate with us. I try to sell myself as a normal human being but the truth is, I lie awake at night making sure that all my parties have themes. How else can I coordinate the invitations people throw away immediately and never RSVP to with the elaborate decor that no one but me appreciates and that I always forget to photograph? It took me several days to realize how to make his requests work in terms of a theme. Ultimately, we decided on DISNEYLAND. Our house would be transformed into the Haunted Mansion, the backyard would be decorated like the Indiana Jones ride, and Spider-man would pay us a visit from California Adventure.
In the end, we swapped Spider-man for a reptile show, face painting, and a balloon artist. I highly recommend both of our vendors — Puppies & Reptiles for Parties and The Inflators. They were AMAZING with the kids and a pleasure to work with from planning to party time.
Happy Birthday to my perfect Indy, who somehow wore his Indiana Jones hat in every picture, every day for a month, but never put it on during the party for which it was purchased.
Also, I held a snake. The end.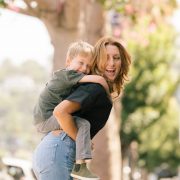 Jessica Butler
Jessica Butler is the co-founder of Raise, stepmother of two, and adoptive mother of one. Prior to Raise, she was a writer on USA's "In Plain Sight" and TNT's "The Last Ship." She and her husband, writer/producer Warren Bell, co-created the Nick at Nite series "Instant Mom," based on her life as a stepmother. She lives in Los Angeles with her husband and six-year-old son, Levon.