Everything you need to survive, and dare we say, thrive, during distance learning this fall.
After three weeks of Zoom school, I've finally determined the items we need to succeed. I didn't list the obvious tech like laptops and printers because those are… well… obvious. But I'm a huge believer in creating a designated school space for your student, if you're able. We didn't do so in the spring, and Zooming from the kitchen table proved to be distracting. This time around, we created a permanent workspace in our living room to provide Levon with the best possible environment to concentrate. Below are the things that are helping us survive, and dare I say, thrive, during distance learning this fall.
A Properly Sized Table and Chair
"Many children have a hard time staying focused on their tasks if they don't feel stable in their chairs," explains Claudia Kerns, a pediatric physical therapist based in Tarzana, California. "Their feet should be on the floor and their pelvis level." Levon's teacher often incorporates physical movement into her lessons, so it was important to me that he be able to push back his chair and stand up without having to climb down from an adult sized chair.
To fit our somewhat awkward "classroom" space, I searched for a long, rectangular table with a durable surface for art projects. And since it's in the middle of our living room, I decided to invest in something that coordinated with the rest of our décor. I chose RH Baby & Child's Vintage School House Large Play Table with a sheet metal top and their Vintage Steel Play Chairs. I also purchased their Large Knit Cotton Round Poof for me to sit on when I need to be next to Levon. A poof makes for the perfect height for an adult, and I find it far more comfortable than sitting in a kid sized chair.
Ikea has an adorable selection starting from just $29.99, and if you're looking for something more temporary, Walmart.com offers kid sized folding tables and chairs that can be easily relocated or tucked away.
Headphones are a must if you have multiple children on multiple computers. All three of my boys love Skullcandy, but the internet is raving about Puro Sound Labs, which will be my next purchase for Levon.
Your child's experience will only be as good as your wifi connection. If your wifi is spotty or weak in certain rooms, I highly recommend a mesh system, which is like several tiny routers that extend your signal into every corner of your home. We have the Nest Wifi system, which we love. Eero is also highly rated.
Levon's teacher provided each of her students with multiple textbooks and a semester's worth of worksheets and assignments, organized by subject. It's imperative that we keep track of everything so that he has what he needs when he needs it, and if you could see the piles of magazines, scripts, and in-progress blog posts stacked on our family room desk, you'd understand the need for a designated place for Levon's materials. My all-time favorite brand for desk accessories is Poppin.
But let's be honest, all of my everything is from Homegoods.
All of Levon's enrollment and registration paperwork has to be submitted digitally this year, and I've tried every scanner app that's out there. My favorite, by far, is Adobe Scan. TurboScan™ Pro also has rave reviews from fellow kinder moms I know.
Levon's workspace is large enough to hold all of his supplies, but if you're working with a smaller space or frequently relocating your child, I highly recommend a cart to keep all of their supplies together. Beyond the usual pencils and scissors, Levon's school provided paper, geometry blocks, counting beans, STEAM supplies, a white board… the list goes on. It's important he know where to find his supplies when his teacher asks him to grab them. Plus, the bottom shelf can house text books and worksheets (or an entire file box)! The classic RÅSKOG utility cart from Ikea is perfect, but my personal favorite is the Lexington 3-Tier Rolling Cart by Recollections™, available at Michael's in 16 colors.
It's important that Levon learn to write letters the proper way, and I definitely don't remember what that is. This handy letter chart from Etsy is perfect for both him and me, and it even includes numbers!
Because no one has one but everyone needs one.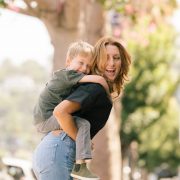 Jessica Butler
Jessica Butler is the co-founder of Raise, stepmother of two, and adoptive mother of one. Prior to Raise, she was a writer on USA's "In Plain Sight" and TNT's "The Last Ship." She and her husband, writer/producer Warren Bell, co-created the Nick at Nite series "Instant Mom," based on her life as a stepmother. She lives in Los Angeles with her husband and six-year-old son, Levon.