Save your money and skip the nursery.
As I've shared before, our L.A. home is extraordinarily small, with only two bedrooms. Anytime we mentioned that we were planning to adopt, everyone asked the same question: "Where are you going to put a baby?" My stepson Henry was 16, and we obviously weren't going to ask him share his room. But honestly, the space issue never stressed me out. People who live in one bedroom apartments in New York City have babies all time. We kept Levon's clothes in some extra drawers in our living room and stored his toys in baskets throughout the house. Everything else we used is listed below.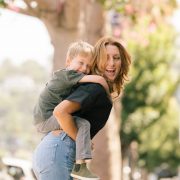 Jessica Butler
Jessica Butler is the co-founder of Raise, stepmother of two, and adoptive mother of one. Prior to Raise, she was a writer on USA's "In Plain Sight" and TNT's "The Last Ship." She and her husband, writer/producer Warren Bell, co-created the Nick at Nite series "Instant Mom," based on her life as a stepmother. She lives in Los Angeles with her husband and six-year-old son, Levon.