Nico and Yeye Peewee Round Maple Kids Play Table, wayfair.com.
With at least six more weeks of school at home, I've decided it's time to create a place other than my kitchen table for Levon to paint projects and roll out playdough. Below is a round-up my favorite kids tables, from low end to high end and everything in between.
Where are your kids doing their school work? Is your whole family working around the kitchen table or is that just us?!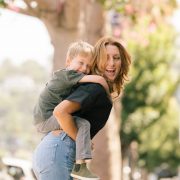 Jessica Butler
Jessica Butler is the co-founder of Raise, stepmother of two, and adoptive mother of one. Prior to Raise, she was a writer on USA's "In Plain Sight" and TNT's "The Last Ship." She and her husband, writer/producer Warren Bell, co-created the Nick at Nite series "Instant Mom," based on her life as a stepmother. She lives in Los Angeles with her husband and six-year-old son, Levon.