image: David Lim / make up: Sarah Uslan
Plus, the eyelash curler Sarah Uslan can't live without.
I am NOT a morning person, so when Levon starts school this fall, my makeup routine will be reduced to the bare minimum. I know better than to think I'll get up early enough to put on my full face.
I recently asked makeup artist Sarah Uslan for her advice on how to achieve the best nomake makeup up look in under five minutes: "My favorite nomake makeup product is Image Skincare Flawless Foundation with SPF 30, which evens out my complexion and makes my skin glow. Then I use my Shu Umera Eye Lash Curler, my own brand of mascara — Pop Kit, coming soon! — and a little cream blush for my lips and cheeks."
Have you ever used cream blush? I've always been a powder girl, but I'm thinking of switching to cream for this hot and dewy season. What's your favorite cream blush? Share in the comments!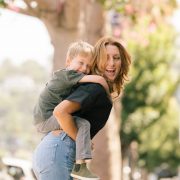 Jessica Butler
Jessica Butler is the co-founder of Raise, stepmother of two, and adoptive mother of one. Prior to Raise, she was a writer on USA's "In Plain Sight" and TNT's "The Last Ship." She and her husband, writer/producer Warren Bell, co-created the Nick at Nite series "Instant Mom," based on her life as a stepmother. She lives in Los Angeles with her husband and six-year-old son, Levon.