image: Kate Underwood / make up: Sarah Uslan
As a new mom of three, makeup became my daily meditation.
I wasn't a big makeup person before having my daughter at age 33. I had a few eye shadows, mascara, some lip glosses for special occasions, but for the most part, makeup was not part of my routine.
My daughter, Halo, who is now four, is my third and final baby. When I was pregnant, friends and strangers alike reassured me that the jump from two kids to three is not nearly the culture shock as going from one child to two. Lies. At least in my experience. I had a pre-teen, a toddler, a newborn, and a full time job. I was burning the candle at both ends, and burning myself out. Enter makeup.
Red lipstick makes it appear as though you are living your life on purpose. People assume you know what you're doing.
I struggled after Halo was born to feel like myself. I realized that what I needed was time alone in the morning to do something just for me. The ritual of putting on beautiful makeup brought me a lot of peace. Also, I stopped hearing, "Wow, you look tired!" at work all the time, which was a nice bonus.
Very quickly, a red lip became one of my favorite go-to looks. Some women are intimidated by red lipstick, but there is no need! Red lipstick is your friend! Even if the rest of you is disheveled, and you haven't showered and have greasy hair, and you accidentally go to work with baby spit up down your back, red lipstick makes it appear as though you are living your life on purpose. People assume you know what you're doing. It's magical.
If you feel like red is too bright for you, or wouldn't look good on you, I'd tell you to just give it a try. I bet you will surprise yourself.
To pick the perfect shade of red, I recommend going to Ulta and trying on all the shades until you find one that you like. I prefer Ulta to Sephora because they 1.) have a bigger selection and wider range of price points, and 2.) Ulta's store brand is cruelty free, while Sephora's is not.  Honestly though, if you like Sephora better, go there. There is no makeup police.
For someone who is looking for a little bit more direction, I've thrown together a few simple steps to help you find your perfect red.
Typically, your skin is warm toned if you have a tan and lean toward shades of gold or brown. If your skin is cool toned, you lean toward shades of pink, red, or blue. You can also look at the veins in your wrists. If they appear more green, you probably have warm toned skin; more blue, cool toned.
LOOK FOR REDS THAT MATCH YOUR SKIN TONE
If you have warm skin, look for a brighter red, maybe one mixed with orange or pink.  The brighter the better! If you have cool skin, look for deeper reds or berry shades. If all else fails, and ask the salesperson to show you a blue-red.  Blue-red lips, also referred to as "neutral undertone reds" look good on everyone no matter your skin tone. They also have the added bonus of making your teeth look whiter! My favorite neutral undertone red is Red Velvet by Besame Cosmetics. It's my favorite to give as a gift, not only for the color, but also the pretty packaging. There are women in my life more pale than paper, along with ones deeply blessed by the melanin gods, and I have yet to meet anyone who doesn't look stunning in Red Velvet!
DON'T FORGET THE LIP LINER
The reason red lipstick can fool people into thinking you are in control of your life is because it can be a bit temperamental. While paler shades like pinks or nudes can easily be applied with one hand while barely paying attention, red lipstick does need to be carefully applied. Without a lip liner, the red pigment can bleed throughout the day and look a bit messy. Lip liner creates a barrier, keeping the lip color inside of it. If lip liner seems like too much, you can purchase a liquid lipstick, which is sort of like paint that you apply to your lips, and once it dries, it's set. Colourpop and Fontella Cosmetics are two of my favorite brands for liquid lipstick.
KNOW THAT YOU DON'T HAVE TO SPEND A LOT OF MONEY TO GET GREAT LIPSTICK
Certain types of makeup require you to spend a little bit more money to get a quality product, but lipstick isn't one of them. Of any makeup product, lipstick is the one where you can spend the least and still look great! Ulta carries a wide array of products at what is commonly known as a "drug store price point." Drug store brands have made huge strides in their quality in the last few years, and there are many brands that I actually prefer over luxury brands. Not only Colourpop, but brands like Essence, NYX, and e.l.f. are killing it when it comes to lipstick! Wet n Wild Silk Finish Lipstick in Hot Red is one of my all-time favorites, and it will cost you 99 cents!
At the end of the day, none of these rules matter. The only thing that matters is finding a color that YOU love and that makes YOU feel beautiful. If you feel like red is too bright for you, or wouldn't look good on you, I'd tell you to just give it a try. I bet you will surprise yourself. And Every time you put it on, remember you are worthy and capable and every bit as beautiful as the classic red lip you are wearing!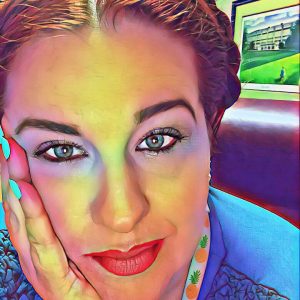 Halley Dean
Halley Dean lives in Kansas with her husband, three children, and attack cat. By day, she puts her extensive social media stalking skills to use as a the head of her company's special investigations unit. She is a would be writer and passionate advocate for social justice, particularly as it pertains to issues involving women and children. She has degrees in American History, Organizational Administration, and Communications, but is often unable to locate her car keys.