Meet Parker Baby, offering stylish baby gear and everyday essentials for new parents.
Here at Raise, we're passionate about sharing modern gender-neutral baby gear. When Levon was born, I was determined to avoid bright, baby-themed patterns and décor. Levon didn't have a nursery, so all of his gear was on display throughout our house, and it was important to me to have baby products that matched our home's aesthetic. It was also important that everyday essentials like his diaper bag be something both his Dad and I could feel comfortable carrying. While my husband will happily hold my purse for me anytime, he didn't want to be toting around an ultra-feminine diaper bag when he was on his own.
I recently discovered the modern baby brand Parker Baby, which offers gorgeous gear and essentials for design-loving parents. Their diaper backpack is both functional and neutral, and features insulated bottle pockets, a key ring, stroller hooks, and most importantly, a laptop/tablet sleeve for busy parents on the go. The brand was founded by husband and wife team Sam & Kirsten Huebner, with products inspired by their four children. Below, we're sharing our favorite pieces from their line. You can shop all of their products here.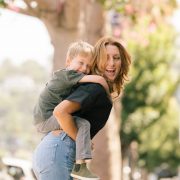 Jessica Butler
Jessica Butler is the co-founder of Raise, stepmother of two, and adoptive mother of one. Prior to Raise, she was a writer on USA's "In Plain Sight" and TNT's "The Last Ship." She and her husband, writer/producer Warren Bell, co-created the Nick at Nite series "Instant Mom," based on her life as a stepmother. She lives in Los Angeles with her husband and six-year-old son, Levon.