rookiehumans.com
From neutrals to florals to perfect Insta backdrops, our list has you covered.
I'm an advocate of mini cribs versus standard size for several reasons, but up until recently, there were very few options when it came to mini-sized bedding. For Levon's crib, I used a neutral bumper and fitted sheet from Carousel Designs with sleep sacks instead of blankets to keep him warm.
Mini crib bedding has come a long way over the past few years, and we've put together our favorite brands and patterns for you to shop below. Do you have a favorite brand to share? Leave us a comment and we'll add it to the list!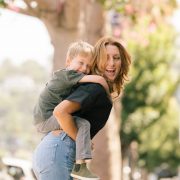 Jessica Butler
Jessica Butler is the co-founder of Raise, stepmother of two, and adoptive mother of one. Prior to Raise, she was a writer on USA's "In Plain Sight" and TNT's "The Last Ship." She and her husband, writer/producer Warren Bell, co-created the Nick at Nite series "Instant Mom," based on her life as a stepmother. She lives in Los Angeles with her husband and six-year-old son, Levon.